Presentation: NextGen Order Fulfillment: What will the DC of tomorrow look like?
Moderator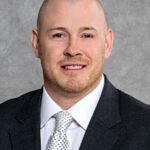 John Santagate
VP Robotics
Korber Supply Chain
Speakers
Andy Lockhart

Dir. Strategic Engagement, Warehouse Solutions, North America

Vanderlande Industries Inc.

As the director of strategic engagement, warehouse solutions, North America, Andy provides Vanderlande's retail customers – including many of the world's best-known brands – with the innovative, scalable systems, intelligent software and reliable services needed to optimize distribution and fulfillment operations. Drawing on his extensive experience in materials handling and e-commerce, he ensures that each retail customer is equipped and positioned for success in a dynamically changing business environment.

Andy brings significant senior executive-level experience to his role with a track record of success providing solutions that optimize distribution and fulfillment operations, including everything from decanting operations to workstation design, automated storage and retrieval, goods-to-person picking and "last mile" deliveries. Prior to joining Vanderlande, he served as a vice president at TGW, where he led business development operations and focused on systems integration, e-commerce and materials handling systems for the retail industry. Lockhart has a Masters in Electrical Engineering from Kings College at the University of London.

Brian Reinhart

Chief Revenue Officer

Hai Robotics

Brian Reinhart, MBA, MEng, has nearly 15 years of experience designing and implementing solutions for global logistics, supply chain, warehouse, and storage customers. With a background in mechanical engineering, he began his professional career as an Application Engineer in the power generation industry before shifting to industrial automation.

Reinhart's operational solutions have addressed and solved problems including, but not limited to, labor cost reduction, space utilization, ergonomics, and efficiencies for autonomous case-handing and mobile robots, automatically guided vehicle robots, conveyance and sortation, high-volume item sortation, automated storage and retrieval systems, warehouse management systems, and more. Recognized as an industry expert in warehousing operations, software, and automation applications, he has partnered with and managed accounts across the full spectrum of customers, from start-up organizations to Fortune 50 companies.

Reinhart's leadership and cross-collaboration have resulted in the design and implementation of 300+ automation projects, including 50+ good-to-person systems. As a creative problem solver that puts his customers and team members first, his prioritization of transparency and ethics ensures sustained commitments to all encounters within the organization and industry.

Jamie Deist

VP Warehouse Operations

Cardinal Health at-Home Solutions

As vice president of Warehouse Operations for Cardinal Health at-Home Solutions, Jamie runs day-to-day operations for the entire network of warehouses that service the business. He is also leading the business' multi-year strategy to expand its capacity in support of business growth.

He most recently served as vice president, Operations, Specialty Pharmaceutical Distribution for Cardinal Health. In his 12 years with Cardinal Health, he's held roles in increased responsibilities across corporate operations and OpEx, including leading Kinray's operations in New York City. Prior to Cardinal Health, he worked in various functions for The SYGMA Network a division of Sysco Foods and was an engineer for Praxair, Inc.

Jamie has a bachelor's degree in chemical engineering from The Ohio State University, and a master's degree in business administration from Ohio Dominican University. He lives in Pickerington, Ohio, with his wife of 19 years, Kristy. In his free time, he enjoys grilling, attending live music concerts and cruising on his motorcycle across the country, weather permitting.

Sean Barbour

SVP Supply Chain

Macy's Inc.

Sean Barbour joined Macy's in January of 2020 as Vice President of Strategy and Product Flow where he is helping lead a major transformation in Macy's supply chain. In his current role Sean has responsibility for supply chain strategy and operations, network design, data science and analytics, reverse logistics, customer delivery, international and domestic transportation, logistics, Macy's Backstage distribution, and Bloomingdale's fulfillment. Since joining Macy's Sean has focused on establishing a long-term supply chain strategy, advancing Macy's analytics and technology capabilities, developing best in class talent, and optimizing Macy's fulfillment and distribution network speed and flexibility.

Previously Sean worked for Walgreens Boots Alliance for 16 years where most recently he led US supply chain development. In his role as US development lead Sean focused on disruptive supply chain technologies and partnerships capable of delivering superior customer and patient outcomes. Prior to heading up development Sean was responsible for global transportation and logistics after numerous leadership roles in supply chain and store operations. Sean currently serves as an advisory board member for the Transportation Center on Telemobility at Northwestern University and the Global Supply Chain Management Advisory Board at Rider University.